EXTREME
Thank God for strep throat! I had to call in sick to work one Saturday because of it, and in my misery I came across a local TV show on Channel 4 called Rap Around. (Remember that show? And Community Auditions? Candlepin Bowling? Nevermind....we'll save that for the bad locally produced TV shows page.) Anyway, Extreme was the guest that week. They were promoting the at the time new album Pornograffitti and performed songs from it acoustically. I've been a fan ever since.
It seems that people either love Extreme pretty much fanatically or they hate them with an undying passion...I myself can't understand the latter position. The guys have always been loyal to their Boston roots and luckily for my friends and I, that has meant lots of shows and events. Here are pictures from Tower Records Boston when their star on the "walk of fame" was unveiled, February 13, 1995. (All pictures courtesy of Sharon McLaughlin)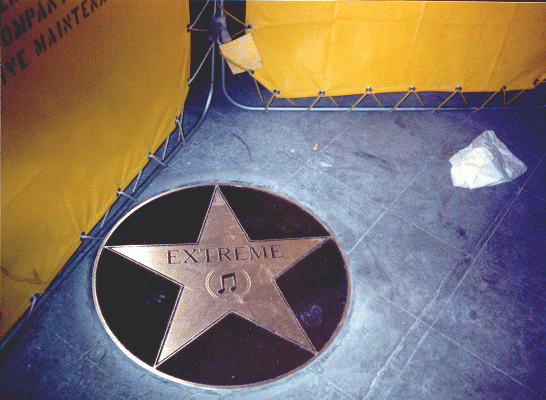 And..tah dah!! The star!!! Five minutes after the unveiling and it's already surrounded by cigarette butts, dirty diapers, and whatnot. Gotta love Boston!
October 1996 was a sad time for Extreme fans. The guys decided to go their separate ways professionally. Nuno went solo, Mike is playing with Steve Vai, Gary is playing with Van Halen and making occasional appearances with the Boston Rock Opera. Pat...well, what is Pat doing?! He just joined Supertransaltantic with Jason of Saigon Kick. Click below to see what life after Extreme is really like.