RICK SPRINGFIELD

---


Rick Springfield was not a childhood obsession of mine. I didn't watch General Hospital, didn't own any of his records, and was only moderately pleased when MTV showed his videos. In 1983 I was all about Duran Duran. And do you see any Duran Duran on One Wild Site? No you sure don't.

My "affair of the heart" with Rick began in January 1999. President Clinton was about to monopolize network TV with the State of The Union. I clicked on Vh1's Behind the Music Special and was quite pleased to discover the State of Rick Springfield.

The special captivated me for the entire hour. When it ended I hopped on to the computer and started searching for all things Rick. My friends groaned when I announced they would be accompanying me to his shows. Tour dates came out, but nothing for New England. Accidently I found out two of my Jovi friends also dug Rick! And you know how we get about these concerts...so off to Long Island we went to see the man.

We had no idea what to expect. I mean, we weren't even sure if anyone else would be there. Our worries were extinguished immediately as we pulled into a packed parking lot. The sold out crowd was as pumped up and as enthusiastic as Rick was to play for us. He hadn't lost any of his energy or charisma. The show lasted for about 2 hours and was full of hits, new stuff, covers, you name it. I was hooked.

A month later, we trekked back down to Jersey to see Rick rock Six Flags. And you thought New Jersey was only for Bon Jovi! Can I just comment that amusement parks and concerts are a great combination? Once again, Rick did not disappoint. Click on the picture below to check out more pictures from that day.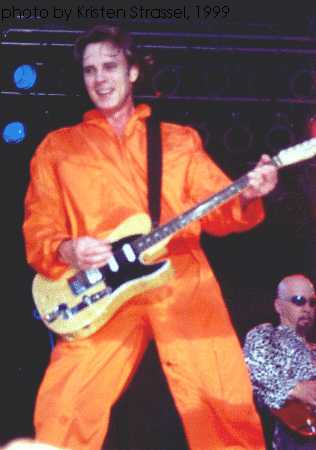 Autumn in New York...October '99 was all about Rick. On October 14th, Rick did an instore meet and greet at Virgin Megastore in Times Square. I asked Rick if he'd come play in Boston (because all this travel was getting to be a bit much, as you will see), and his reply was, "if Boston will have me..." What's not to want? Here are some pictures from that day, with Rick looking fabulous and me, well, hey, I had to get up early and drive a lot that day. Give me a break. Or give us a click and you'll see more of that fabulous day.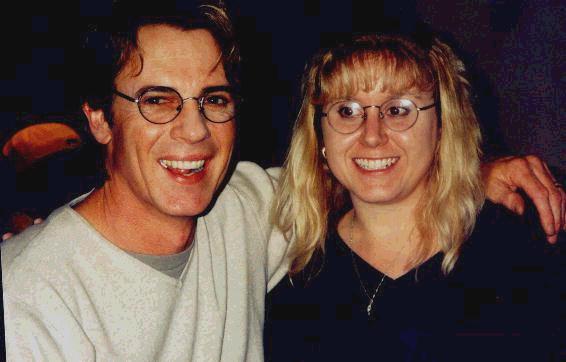 Two days later I was back in NYC for Rick's "Broadway debut" at the Beacon Theater. It was a regular concert but the theater was indeed on Broadway. Then at the end of the month I found myself in New York again for the actual Broadway show, "Smokey Joe's Cafe."

Guess what finally happened!! Rick came to me! August 25, 2000 I had the pleasure of driving about 30 minutes to see him play at the South Shore Music Circus in Cohasset, MA. That is the show that they filmed those girls onstage for the VH1 "Fan Club" special. They are a bunch of weenies in Cohasset and the band's soundcheck was apparently "too loud" and an acoustic show was suggested. The guys didn't miss a beat. They'd been up for days due to performing at the Today Show that morning. It was kind of nice to get the "plan B" version of the show...which somehow ended up electrified by the end of the set. Click on Rick and he'll show you more of that night.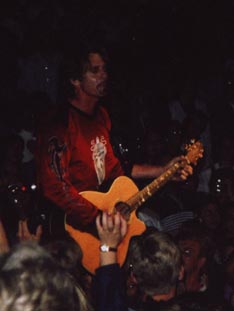 You didn't think I let Rick off that easy, did ya? He actually did two shows in MA...double the pleasure, double the fun! I also saw him the next night in Beverly, MA.

2001...didn't think I'd be seeing Rick at all this year. He's in Vegas performing in "EFX Alive" at the MGM Grand. My friends and I have planned a trip to Vegas in April, so naturally, I had to see if Rick was still going to be there...and HE IS!!!!!! And thanks to my wonderful new friend Cindy, I have faboo seats for the show! I can't wait!

One Wild Site Main Page